(English below)
Till alla medarbetare vid Fakulteten för kultur och samhälle
Efter många år i tjänst på Malmö Universitet avtackar Fakulteten för kultur och samhälle och institutionen för konst, kultur och kommunikation, K3 Professor Ronald Stade.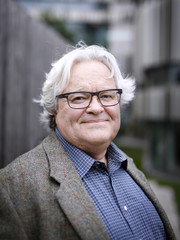 Välkomna på mingel torsdagen den 13 februari!
Tid: 13 februari 2020 kl. 15:15
Plats: Sällskapsytan på plan 7
Varmt välkomna!
Hälsningar
Dekan Rebecka Lettevall och prefekt Sara Bjärstorp
– – ENGLISH – –
To all staff at the Faculty of Culture and Society,
After many years at Malmö University Professor Ronald Stade will start a new phase in his life. The Faculty of Culture and Society and the School of Arts and Communication K3, would like to thank Ronald for all these years.
Welcome to attend his retirement-party on Thursday, February 13.
When? Thursday, February 13 at 15.15
Where? The lounge/café area on floor 7
Warm welcome!
Best regards
Dean Rebecka Lettevall and Head of Department Sara Bjärstorp